Our Favorite Waterfalls in Iceland: Gullfoss, Seljalandsfoss and Seljalandsfoss
Forget what TLC says, Iceland is THE place to go to chase waterfalls. All the waterfalls. Seriously, so many waterfalls. There was a day that as we were driving to the northern part of the island, we counted each waterfall we passed. We stopped counting after we hit 100. There are the massive waterfalls to check out like Gullfoss, that make you question your existence as you stand next to their majesty. But there are also dozens of smaller waterfalls all throughout this country that offer more intimate experiences, especially once you get beyond the Golden Circle and away from the areas where the majority of tourists tend to stick to on their guided tours. Sometimes, it's just you and an Icelandic waterfall alone together. Those are the moments that make Iceland so special.

Gullfoss
This fall is located in a canyon in Southwest Iceland and is a super popular spot for tourists. It was cold, really cold, the day we visited with high winds. I'm fairly certain I had 7 layers of clothing on, but then again, I think I always had 7 layers of clothing on everywhere we went in Iceland. I basically walked around looking like a Doppelganger of Ralphie's brother from 'A Christmas Story.' But I digress… It is an impressive waterfall and a unique experience because you can view it from so many different angles thanks to a trail. You can walk up alongside and around the fall. It's not a challenging trail so anyone can make the visit, just be on the lookout for rogue selfie sticks flying in all directions as you walk.
One of our favorite moments of this stop was taking a short walk past the fall to the visitor center. We were starving. We were also about to be totally boring and order a cheeseburger, when I overhead someone order the lamb stew. The gentleman serving explained this was a traditional Icelandic dish and very hearty, so we both ditched the burger and went for the stew. And oh my goodness, was it Yummazing! It was the most perfect warm dish for a harsh, cold day. Now if you're thinking, "Melissa, did you know that you've spent more time discussing the stew rather than the actual Gullfoss waterfall?" I would respond to you that yes, I did. This is because although Gullfoss is a really neat fall to see, it was nowhere near to being my favorite.

Skogafoss
This was a fun one!
Parking was pretty chaotic for this one so be prepared to walk a bit to get to the fall. But, you can literally just walk right up to this one. There were people sort of "camped out" in front of this one. I don't know if they just come spend the day hanging by a waterfall the way people tailgate before a football game or what exactly, but it was crowded.
What's cool about this waterfall is there is land right up to just about the base of the fall so you can walk up as close as you're brave enough to get, which makes for some stellar photos. We were also treated to a rainbow, and for a time, a double-rainbow, during our visit, which made for some super stellar photos. The rainbow was aggravatingly close – like I actually felt a little frustrated at not seeing a pot of gold that day. It was a delicious memory. A gift, really. There are stairs to climb to the top of the fall, but honestly, the better view and experience is down below, so unless you feel like punishing yourself, you can skip the stairway to heaven.
Bring waterproof clothes and shoes and allow yourself the time to play at the foot of the falls. It's a once in a lifetime feeling. They also have a lounge area nearby where you can dry off, warm up and get some food in your belly.
Seljalandsfoss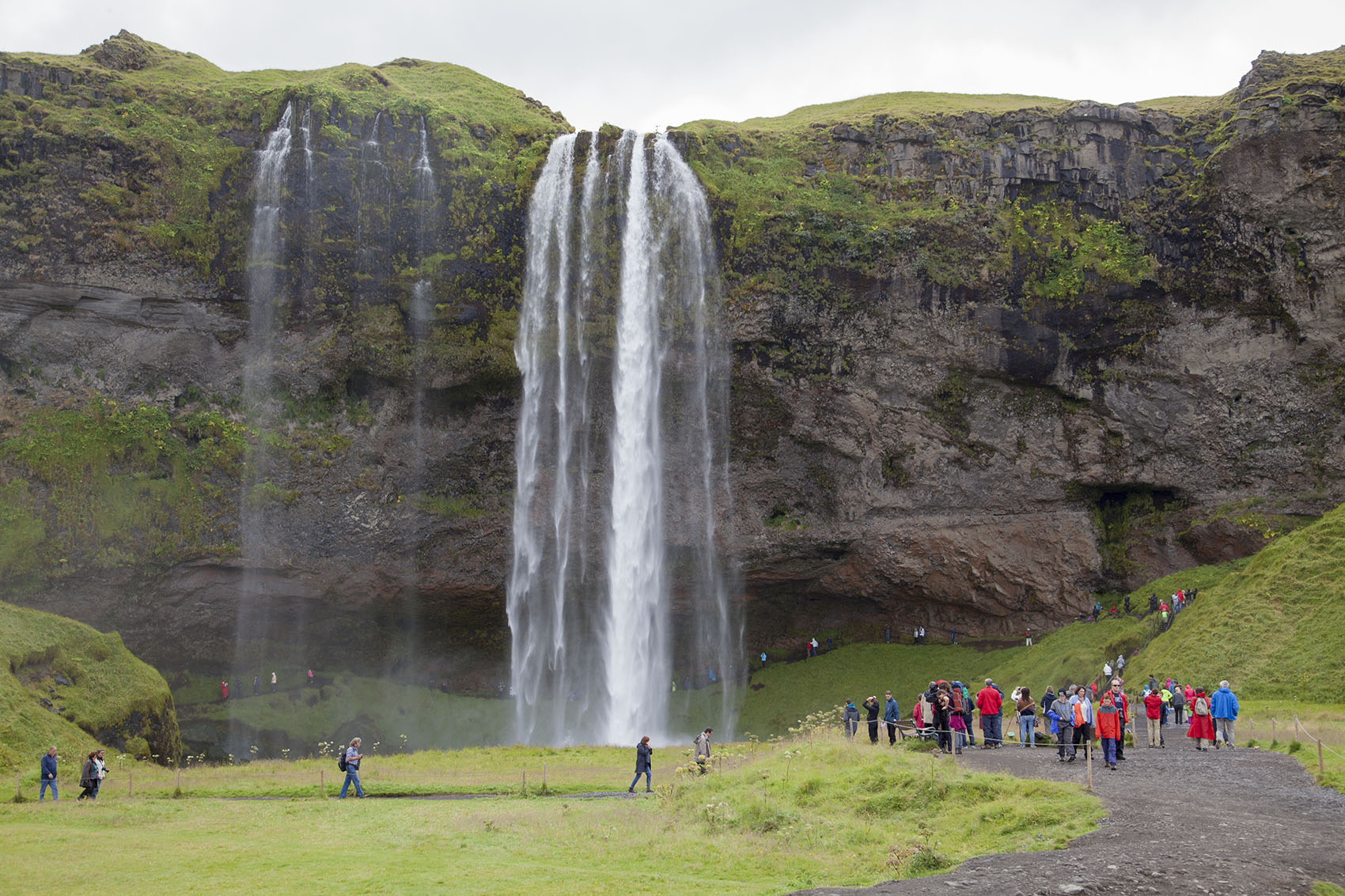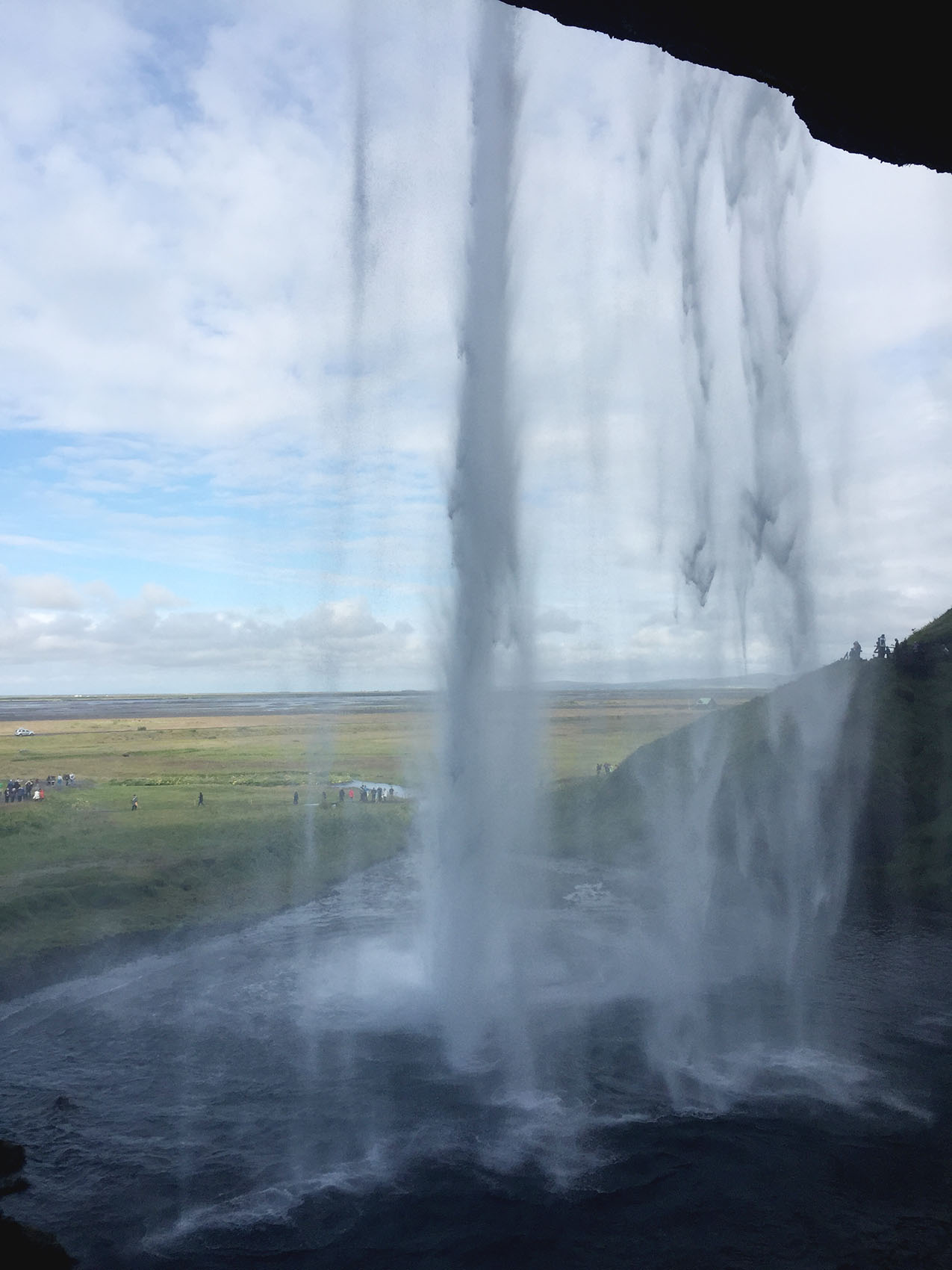 I have decided that this is where fairies live. Water fairies, anyway.
I'm not sure if we arrived at an unfortunate time, or if it is always like this, but the parking lot at this one was intense and we were battling tour buses, lots of tour buses for real estate. Right near the parking lot there's a little shop that sells hot and cold beverages and small trinkets and as you walk beyond that you can see the waterfall spilling from the cliff above.
To be honest, I thought it looked a little skinny for a waterfall, especially after just witnessing the magnitude and bulk of Gulfoss, but the magic of this waterfall lays behind the fall. You read that right. At this site, you can climb along the waterfall and go behind the fall itself. If you've ever ridden the Jungle Cruise at Disneyland, you'll be thinking about 'the backside of water' during this visit.
When I got behind the fall, something happened to me and I suddenly felt youthful again – like a little girl playing mermaids in my grandparent's pool with my cousin. It smelled wet and earthy and the sound of the falling water was the best sound in the entire world and I could see myself staying there, listeningto that sound, watching the sun set and waiting for the fairies to emerge from the hidden hiding places after all of the other humans had left for their 5 p.m. dinners. It felt like a place of possibilities and fantastical secrets and I had an implicit understanding of the legends and lore that originate from this land. As we descended down the other side, I was sad to leave it and wished somehow that I could bottle up that feeling of being behind the water and carry it with me always.
That sadness quickly vanished as I turned my focus to safety. It's a tricky climb, both up and down. It's a narrow, natural path for most of it and wet aka slippery. People were pretty ballsy and moved too quickly – my advice would be to go slow (you get to appreciate it longer that way too), wear good shoes and let people pass you.
There's a little path you can walk from the fall that takes you through a charming field and you can listen to the sound of a babbling brook as you walk. It was one of the most peaceful strolls I've had the pleasure of taking. Most people don't walk it – they come and see the waterfall and leave. Don't do that. At least that's my humble suggestion.
We did not make it Selfoss, which is one of the most widely photographed waterfalls in Iceland. Next time…