Driving Iceland's Ring Road
Driving the Iceland Ring Road
We drove Iceland's Ring Road north from Vik all the way around to Reykjavik. We found a land of stark beauty and wide open spaces.
I only thought we were going to die once. It was a long day – a driving day – as we were trying to get from the last place we had stayed to our next Airbnb in the northern part of Iceland.
The weather was bad. It had been raining nonstop and there were low clouds making it nearly impossible to see the road ahead of us, which terrified me because we were on curving, mountain roads unfamiliar to us. My husband was as cool as a cucumber and I couldn't understand how he could be so calm about it. Turns out he was just masking his nerves. If he had cracked and shown me his anxiety, I would have double-downed on my own. Smart, strong man.
It is a lesser-traveled area of Iceland. Most tourists stick to the Golden Circle and the southern portions of the island. We decided to go for it because you know, when in Iceland, go big or go home. There were hours when we wouldn't see another soul on the road. Not to mention, no restaurants or gas stations along the road either. It was a welcome change to the overwhelming cities we normally find ourselves in and the island seemed to keep out-doing itself with splendor of natural brilliance.
It all felt so innocent and untouched. Unruined by man and society. It also made us feel a little guilty for driving through it. But we appreciated it and valued it. It was an unparalleded experience.
On our way, we stopped in Vik, the city known for it's black sand beaches. It was moody and stunning. On the shore there was what looked like a sea flower that had washed up. An Icelandic woman motioned for me to touch it and me, being a good sport, touched it and it moved – it was alive. At seeing my glee at this surprise, she went on for five minutes about the creature, in Icelandic, mind you, so I had absolutely no idea what this enlightened stranger was saying, but I nodded enthusiastically which seemed to appease and encourage her. I've never seen anything like it.
We saw people riding horseback along the beach and the horses here look different. Fuller and more anchored to the land. It was very romantic watching the scene unfold. Strong Icelandic horses gracefully strolling along the black beaches…
There was a tiny town, just off the water where we had a great meal of lamb and took refuge from the cold before hitting the road.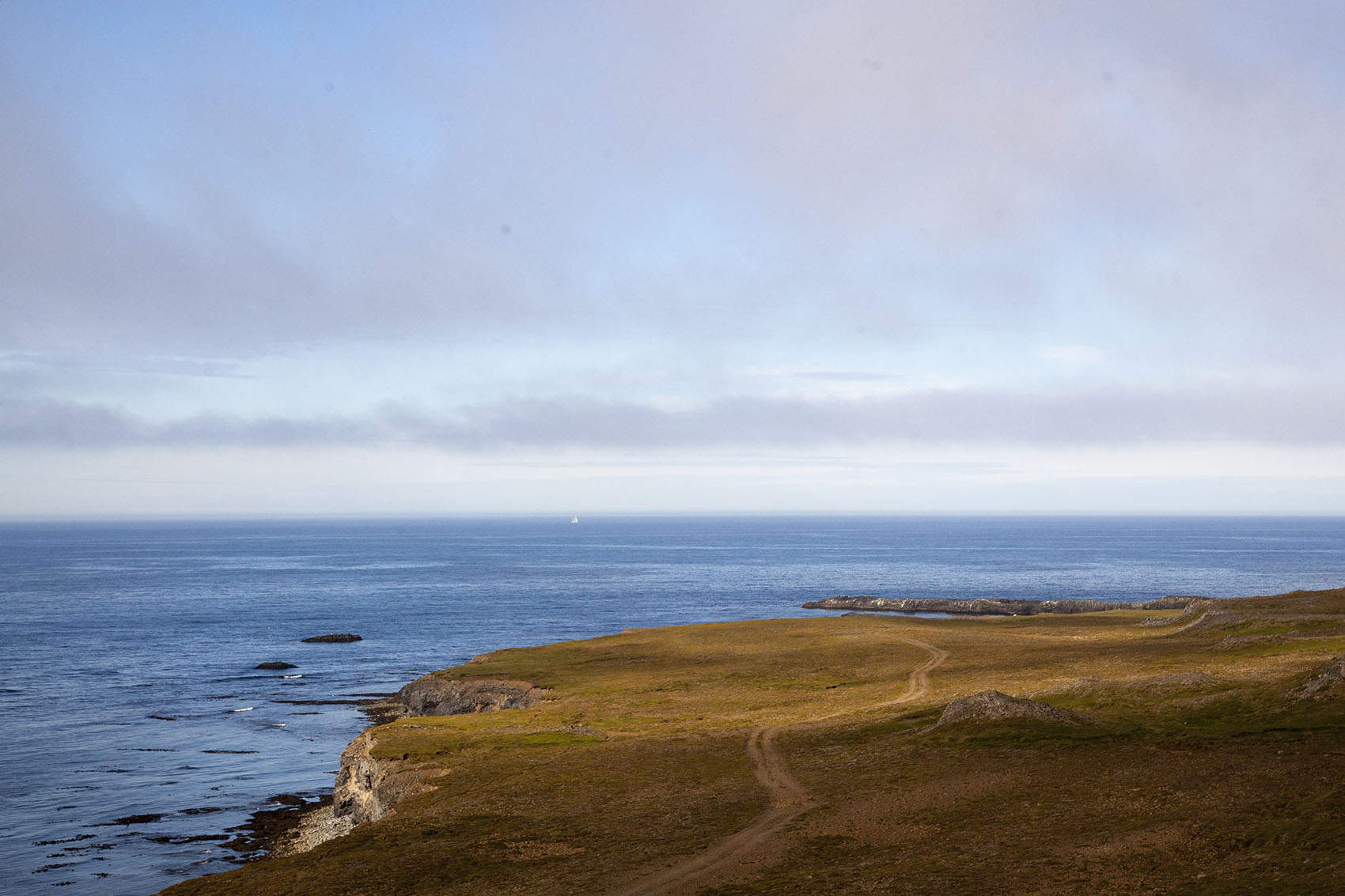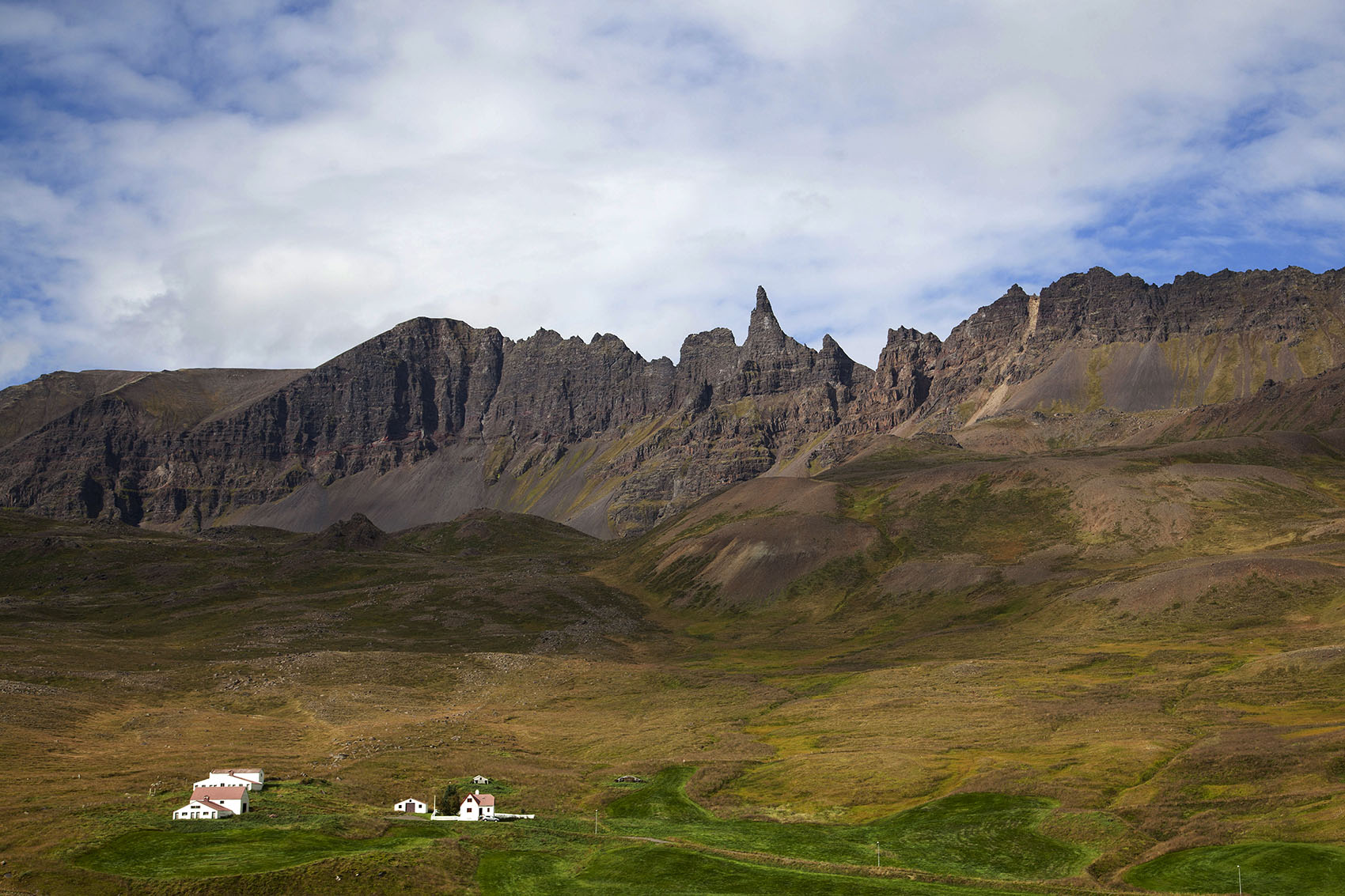 Puffins at Dyrhólaey and Reynisfjara Beach
I was also obsessed with idea of seeing Puffins. My wonderful husband was fully committed to making that happen and found me Puffins! The Dyrhólaey cliffs, near Reynisfjara Beach, boasted hundreds of them and I was delighted! The funny-looking birds are totally endearing to me. They look like they don't know how to fly properly as they flap around all awkwardly compared to other birds who glide quite naturally through the air. They also seem to sort of crash land into the water. I laughed endlessly at their quirky little ways and vowed not to eat a Puffin ever, even though they're on many an Icelandic menu. No thank you.
The further north we got, the landed changed with bigger mountains and wider fields. Dixie Chicks' 'Wide Open Spaces' kept haunting my brain as we moved through towns.
Bring on the rain
As we made out way north we were met with a huge rain storm- well huge by our standards. We're from Phoenix, Arizona where we only get eight inches of rain a year and that's if we're lucky.
A highlight of the trip for Pat was going to be the glacier lagoon at Jokulsarlon known for its blue ice. It's the iconic Iceland scene. We had reservations for a boat tour in the lagoon, but by the time we got there and checked in the rain was showing no sign of letting up, in fact it seemed to be intensifying so the tour was cancelled. This is something to anticipate in Iceland - the weather can be harsh and aggressive, so try not to get too tied to plans. The elements may not feel like playing nice that day. You have to go with flow as much as you can in this country.
We decided to walk around the lagoon for a bit to see if Pat could get a good shot or two from the shore. Even dressed in rain jackets and armed with an umbrella we still got soaked to the bone and had to change into dry clothes in the car. By the way, is rain supposed to come down sideways? Asking for a friend.
It appears Jokulsarlon wasn't in the cards for us. I guess we'll save that for another trip.
Humpback whale watching
We stopped in one town called Husavik to go whale watching which ended up being a highlight of the trip. The town is known for its whale watching, according to several things I had read online. We bought our tickets for the next boat out and had time to grab some fresh fish and chips just off the docks. So good. When you board the ship they give you these really warm jacket to wear over your clothes, we were thankful for that. The crew of the different boats talked to each other – they communicated about where they last saw a whale and would head out that way and linger in spots for a bit to see if we got any company.
We did. We were very lucky to see not one, but three humpback whales out in the wild. It was a magnificent experience to witness. These massive creatures surfaced and suddenly you realize how small you are, how you've entered into their world and you're just thankful to be there. Truly incredible.
It was also the most north we'll probably ever be as we sailed toward the Arctic circle. Greenland was somewhere off in the distance. We passed by fjords where hardly any people live because it's so difficult to inhabit and sustain. You got the sense of what it means to be truly wild.
Skagastrond
As we continued, we closed out our trip by staying in a small fishing town called Skagastrond before retiring to Reykjavik. We didn't know it at the time, but it is actually the shooting location for the movie 'The Secret Life of Walter Mitty.' It was charming and quaint. The weather was mild enough to permit us to walk from our Airbnb down to the shore where we each brought our journals and wrote peacefully, inspired by the quaint scene around us.
An Icelandic Delicacy: Putrified Shark
We also found a restaurant where we finally braved the challenge of eating putrefied shark. Yep. Supposedly it's an old Icelandic tradition that is supposed to make you appreciate life after you eat it. We think it's just a trick they play on willful tourists. None the less, we did it and there was no vomiting involved. The strong liquor they serve it with for a shooter to follow helped. It mostly just tasted like ammonia- and death.
The real treat of that restaurant was the main dish. The chef served it himself which featured the fresh catch of the day from the waters just outside. It was probably some of the best seafood I've ever had served in a delicious light broth. Mmm, I can still taste it.
We explored the surrounding farmland, the cliffs along the sea and the small towns nearby. We were often alone – uninterrupted, unrushed and unburdened by all the strains of everyday life. It felt like a cleanse of the daily grind as we got back to something more simple, something basic and real that a place like only Iceland can give. We saw more sheep than people, we watched the clouds move with glory in the sky, we listened to waves crashing against the shore, we forgot about everything else and just existed for a moment. And that is what Iceland was for us.